Oh yeah, some exciting new board games and game expansions arrived this week! Here's a quick overview of what's just arrived.
Ticket To Ride
Rails & Sails
Days Of Wonder
We're excited that
Ticket To Ride: Rails & Sails
, the newest in the
Ticket To Ride
series has arrived. This stand-alone game
comes with a double-sided board.
It's time for a new railroad adventure – play
The World
on one side and
The Great Lakes
on the flip side.
Players collect cards of various types (trains and ships) that allow them to claim rail or sea routes. There are 2 types of travel decks: Colored Trains and Colored Ships. There are wild cards that can be used as either a ship or a train. Some of the ship cards count as 2 ships. An interesting game mechanic is that players will have to pare down their supply of trains and ships after choosing their starting destination cards.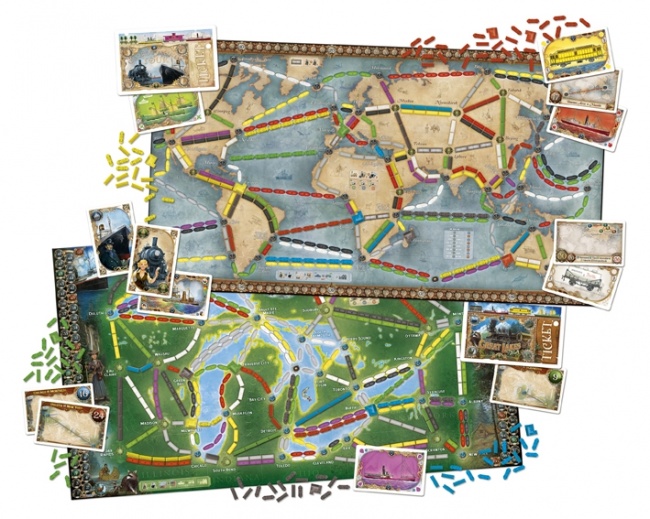 Clank!
Renegade Games
Clank!
is a deck-building, dungeon crawling, press your luck adventure played out on a game board. The game comes with a double-sided board.
In
Clank!
players are sneaking their way through a dungeon stealing artifacts. The deeper you go, the more valuable loot you'll find. Expand your deck and watch your abilities grow. Some of the cards, while providing abilities can also include Clank! features where you must put some of your life cubes at risk to the wrath of the dragon. To enjoy your plunder, you must escape the depths alive.
Watch this video to learn more about
Clank!
Schotten Totten
Iello


Back in print is Schotten Totten, a classic Reiner Knizia game.


This is a 2-player card game where you each represent a Scottish clan defending your turf. Nine stone tiles separates you from your opponent. The objective is to be the first to claim any 5 of the 9 tiles or to claim 3 adjacent tiles. Through out the game you will play numbered clan cards behind the tiles on your side of the border in a poker manner. When a tile has 3 cards played from each side, the player who played the strongest hand wins the tile (i.e. 3-of-a-kind beats a run of different colors).













Betrayal At House On The Hill
Widow's Walk
Wizards Of The Coast
The much anticipated expansion to the popular game,
Betrayal At House On The Hill
has arrived!
Take a deep breath, as you enter into a creepy mansion to find out if it is truly haunted. Little do you know what evils you and your fellow adventurers will encounter. Nor, do you know that as you brave your way through the mansion one among you, will turn on you and try to destroy the rest of you.
In
A Widow's Walk
, the first expansion, a new world of horror grows. You have 20 new rooms that include a previously unexplored floor, new monsters, items, omens, events, and 50 new haunts.
"Enter if you dare. Leave if you're lucky!"
Legendary: A Marvel
Deck-Building Game
Deadpool
Upperdeck
Also new in is Legendary Deadpool, the latest game expansion to Legendary: A Marvel Deck-Building Game, a comic books' superheroes cooperative game.


The Legendary Deadpool expansion provides 5 new Heroes, 2 new Masterminds, 2 new Villain Groups, and 4 new schemes all within a 100 deck of cards.




Additionally, Legendary Deadpool can be played with Legendary Villains base game.



~
~
~
~
~
~
~
~
~
~
~
~
~
~
~
~
~
~
~
~
~
~
~
~
~
~
~
~
~
~
Continue to check in for the latest in board games.
~
~
~
~
~
~
~
~
~
~
~
~
~
~
~
~
~
~
~
~
~
~
~
~
~
~
~
~
~
~
Come and visit us at
30 NW 2nd Street in Historic Downtown Gresham
. We have a full range of family games, strategy games, Euro-style games, war games, card games, dice games and more. Also for the puzzle enthusiasts we carry quality puzzles from Ravensburger, White Mountain, and Cobble Hill.
We proudly serve Gresham and the greater Portland and Vancouver.