Here is this week's exciting game arrivals:
Clans Of Caledonia
Karma Games
Clans of Caledonia is a strategic and interactive economic game for 1 to 4 players that is set in 19th-century Scotland. Featuring a modular map, nine historic clans, and various scoring and port tiles Clans of Caledonia provides plenty of replayability.
In the 19th century, Scotland made the transition from an agricultural to an industrialized country that heavily relied on trade and export. In the following, the food production increased significantly to feed the population growth. Linen was increasingly substituted by the cheaper cotton and raising sheep was given high importance. More and more distilleries were founded and whisky became the premium alcoholic beverage in Europe.
Players represent nine historic clans with unique abilities and compete to produce, trade and export agricultural goods and of course whisky!
The core mechanics and strategies are very thematic.
Fairy Tile
Iello
Fairy Tile is a strategic and adventurous tile-laying game for 2 to 4 players.
Develop the kingdom of Fairy Tile by putting new land tiles in play and moving the princess, knight, and dragon across different places such as mountains, forests, and plains. Help them have extraordinary adventures by accomplishing objectives written on the pages of your book. As soon as you complete an objective, develop your story and read the page of your book aloud. Be the first to read all the pages of your book to win the game.
What's also cool about this game are the princess, knight, and dragon figurines and the fact that you have a story that reads complete no matter the order in which you complete your cards.
Byzanz
Renegade Games
From Renegade Games is Byzanz, a card game for 3 to 6 players.
publisher description
In the bustling market of Byzanz, bundles of goods are available to savvy merchants. Bid for the best bundles, catch a deal at the main market, and find the right moment to sell the goods you have collected.
You are a merchant in the Byzantine Market participating in auctions for bundles of goods. In every round, each player will win exactly one auction by offering cards from their hand. The winner of an auction must place their bid into the Market.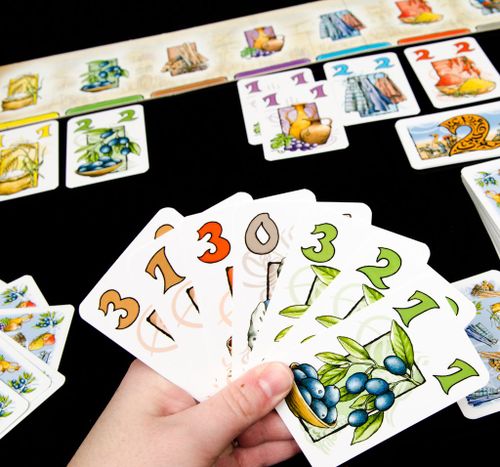 When a player has a set of three identical goods, they may sell them in the Market, keeping the highest valued card as profit. The game ends when all the Goods cards have been auctioned and the player with the highest profit is the winner.
Dwarf King
Iello
Dwarf King
is a trick taking card game full of surprises made up of suits of various goblins, dwarves, dragons, and magic. A game is made up of decks of basic cards, special cards, and quest cards. Played over seven rounds, each round begins with a random draw of a special card, revealing it's effect and shuffling it in with the basic cards and dealing a hand to each player. Then a random quest card is drawn and one of the two scoring rules written on it is chosen.
Each player then makes the best of it with the hand he has been dealt. T

he goal is to take tricks or to avoid taking tricks depending on the chosen scoring rules.
The player with the highest total score
after seven hands wins the game.
A different scoring rule is chosen for
each round. The type of card you have in your hand at the end of a round will determine if you will be the start player, special card drawer, or the one who will reveal and chose the next quest scoring rule for the new round.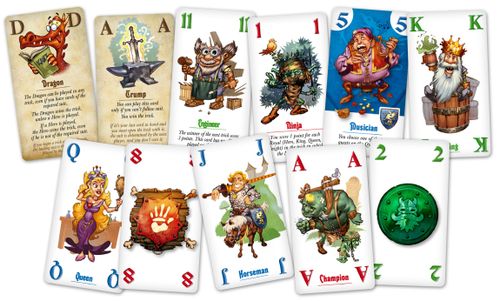 ~
~
~
~
~
~
~
~
~
~
~
~
~
~
~
~
~
~
~
~
~
~
~
~
~
~
~
~
~
~
Continue to check in for the latest in board games.
~
~
~
~
~
~
~
~
~
~
~
~
~
~
~
~
~
~
~
~
~
~
~
~
~
~
~
~
~
~
Come and visit us at
30 NW 2nd Street in Historic Downtown Gresham
. We have a full range of family games, strategy games, Euro-style games, war games, card games, dice games and more. Also for the puzzle enthusiasts we carry quality puzzles from Ravensburger, White Mountain, and Cobble Hill.